Warren Platner, eclectic American architect and designer of interiors, furniture, lighting, and textile. Identify here his iconic Platner collection: his dining table and chairs, the coffee table, the executive desks and his famous easy chair. His unique design principles brilliantly merge functional features with ornamental elements, a rare mid-century modern combination
Bio
Warren Platner  was an American architect and interior designer who produced a unique furniture collection which blended sophistication with modernism since 1960. He graduated with a degree in architecture in 1941 and his career began with working for some of the most prominent architecture practices in the country: between 1945 and 1950, he worked for Raymond Loewy and I.M. Pei. He received the Rome Prize in architecture in 1955. He opened the firm his own firm in New Haven CT, and then having gained a wealth of expertise from working for various architect and design luminaries, started the collaboration with the manufacturer Knoll.
Style
Warren did not limit himself to building architecture but also experimented in furniture design, lighting, textiles, and interiors. His multi-disciplinary experience contributed to his ability to embrace a certain degree of richness and lavishness which was rare in the mid-century modern style. Furthermore, the involvement in interior design projects had a strong influence in developing his stagey, elegant style. While other designers of the time were focusing on simpler geometric forms while stressing the functional aspect of their design, Warren was merging pragmatism with ornamental features. His first pieces were created by welding hundreds of curved rods to circular frames serving as structure and ornament. They are all fully functional and modernist pieces. Warren desired to design "classic" pieces: in his own words classic as " something you look at often and always accept as it is". A paradigm that "you can see no way of improving it"
Masterpieces
PLATNER COLLECTION (1966 designed for Knoll) was a series of sleek modern CHAIRS, ottomans, TABLES that rest on an intricately sculpted base of cylindrical steel rods replicating a moiré pattern.
Focused on a quieter aesthetic, the collection wished to create more graceful structures. To design the dining table of the collection, Platner exploits the rod's radial symmetry and a moiré effect to achieve its striking visual appeal.>> Please click here to see current offers and pricing. <<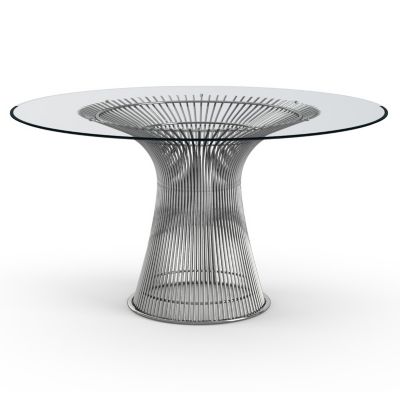 In the Arm chair the curved steel rods that make up the frame hold up the upholstered seat and backrest with strength belied by their thinness.  >> Please click here to see current offers and pricing.<<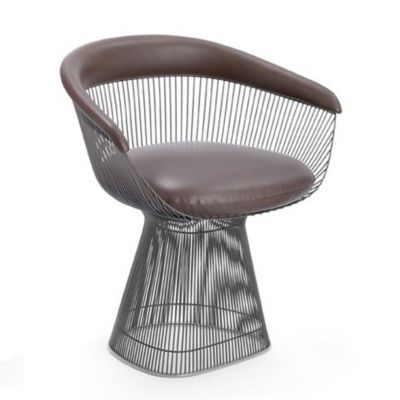 The ERGONOMIC DESK aka EXECUTIVE DESK included special compartments for files and office machines. Rectangular office desk in wood and leather with modern straight steel bases. 
PLATNER EASY CHAIR and STOOL The base of this chair is made of nickel-plated vertical steel rods welded to circular horizontal and edge-framing rods. For comfortable use, the upper part of the backrest is lined with foam, the same material that fills the seat cushion, fixed to the chair by a velcro. Requiring over 1,000 welds for one piece alone, the complex design is a close marriage of architecture and industrial design.>> Please click here to see current offers and pricing.<<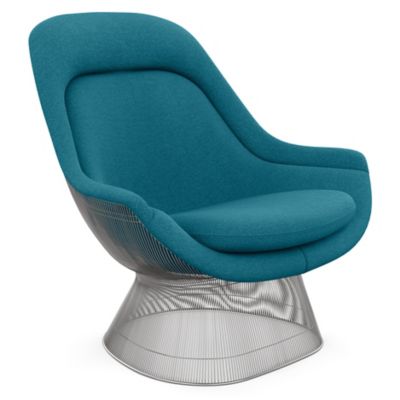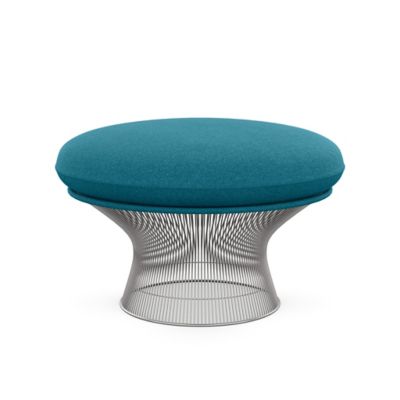 The stool is the perfect complement to the Easy Chair. Built to provide a comfortable surface for sitting or simply resting feet, it is thoroughly unique and contemporary in its design. The base is made of steel rods plated in nickel, giving the ottoman a sturdy foundation and sporting a style that's stylish without overpowering the space. >> Please click here to see current offers and pricing.<<