How can we write about Verner Panton without thinking of these attributes: eccentric, psychedelic, visionary, innovative? Panton quickly became successful thanks to his Panton Chair: a truly Mid-Century Modern icon. But it's his particular vision of our environment that will leave us the most beautiful trace of his life's work.
Bio
Verner Panton was born on February 13, 1926, in Denmark, in the city of Gentofte (on the island of Finen) from a family of innkeepers. After finishing his studies as an architectural engineer in Odense, he went to study at the Royal Academy of Fine Arts in Copenhagen. There he met the designer Poul Henningsen who became his mentor. After collaborating with designer Arne Jacobsen for a couple of years (1950-1952) and helping him developing the famous Ant chair, Panton decided to travel through Europe in a van for nearly three years!  This is how he imagined many seats and lighting fixtures by meeting designers and talking with manufacturers during his trip.  In 1955, Panton founded his design studio and the manufacturer Fritz Hansen produced his first furniture design.  His quest for beauty ended in Copenhagen, where he died on September 5, 1998.

Style
Verner Panton had a predilection for all seating furniture (armchair, chair, stool…), and modern and innovative materials (plastic, fiberglass especially), all combined with bright colors and innovative lines. The result was unique and singular design pieces that had a profound impact on the Mid-Century Modern world. While some criticized him ardently for his eccentric and provocative style, others were already considering him as one of the fathers of contemporary design. By playing with light, colors, materials and furniture, Verner Panton wanted to make our environment more exciting and get us out of the gloom of dark and conformist interiors.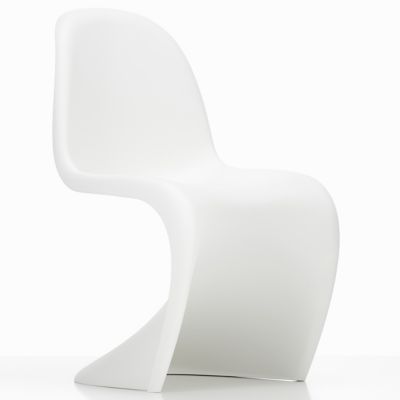 Masterpieces
THE CONE CHAIR: produced by the Danish company Plus-Linje in 1958, was the first of Panton's designs which really reached a wide audience. Resembling a futuristic padded flower cup, sitting on a supporting steel cross, this was incredibly innovative.  Originally designed for his parents' new restaurant went shortly on sale all around Europe and New York, establishing Panton as a new and imaginative designer: a true Mid-Century Modern pioneer.
THE PANTON CHAIR: In 1960, Verner Panton designed the revolutionary Panton chair. This was the beginning of a long collaboration with the manufacturer Vitra that still produces the seat today. Although the cantilevered chair (in the shape of an S) already existed in 1926, Verner Panton had the astonishing idea of manufacturing it in moulded plastic, once again proving its innovative character by presenting an original monobloc piece. He also wanted the chair to be easily stackable and comfortable. A Mid-Century Modern icon, the Panton chair has enjoyed – since its creation – continuous success while undergoing regular technical changes. It was only in 1999 that the chair was finally produced as Verner Panton wanted it, with a matt finish that makes it suitable for both indoor and outdoor use. >> Please click here to see current offers and pricing. <<
THE MOON LIGHT: while Panton gained most of his fame designing chairs and seating systems, he also successfully applied his creativity to lighting fixtures. His Moon Light is one the best examples of his eccentric, somehow psychedelic, vision.