Within the Mid-Century modern movement, Poul Henningsen was a romantic functionalist. The shape of his PH lamps was not just an end to itself, but based on scientific analysis of light diffusion. In his Artichoke lamp, the aim is to minimize the amount of harsh, direct light by producing a lighter, more reflective light.
Bio
Poul Henningsen (Danish, 1894–1967) was best known for his signature PH lamps but besides a designer he was also a writer and an architect. Henningsen trained at the Copenhagen Tekniske Skole and then studied architecture at the Laeranstalt at the Polyteknisk. He freelanced as an architect and journalist after graduation, designing many houses and interiors. At the same time, the was working as a journalist and writing for numerous newspapers and journals gaining a reputation as a sharp critic of conservative politics. He created the first of his multi shade lamps in 1924 and received a gold medal a year later at the Paris Exposition des Arts Décoratifs et Industriels.
Style
His lamps ' eloquent designs have developed a whole new lighting theme. Yet, copyists have often overlooked the true guiding principle of Henningsen: hard work. The shapes of his pieces are just not an end to themselves, but based on scientific analysis of light diffusion. Henningsen was a "romantic" functionalist. He liked the atmosphere created by the warm comfortable light of his childhood home's oil lamps. Working from the idea that direct glare from an electric light source was harmful to well-being, Henningsen created lampshades from separate elements, formed and constructed in such a way that they obscured the bulb, directing light downwards, and producing a lighter, more reflective effect. Furthermore, Henningsen used various colored shades of glass with frosted surfaces to minimize the amount of harsh white light emitted and create a golden shade.

PH 5 lamp by poul henningsen for louis poulsen celebrates 60th anniversary with a movie from designboom on Vimeo.
Masterpieces
The PH lamp series' first production was commissioned for the new Copenhagen Forum exhibition building. The PH design was based on Poul's  studies of light distribution.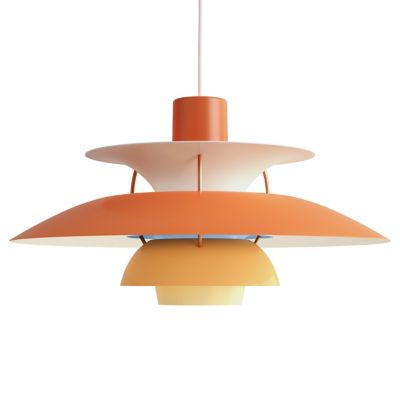 He continued to design lighting for Poulsen, and his PH series were considered design classics along with his 1958 Artichoke lamp. With a beautiful Brushed Brass finish, the artichoke lamp features levels of chrome-plated metal that are layered, creating a spectacular ambient glow. SEE HERE FOR LATEST PRICING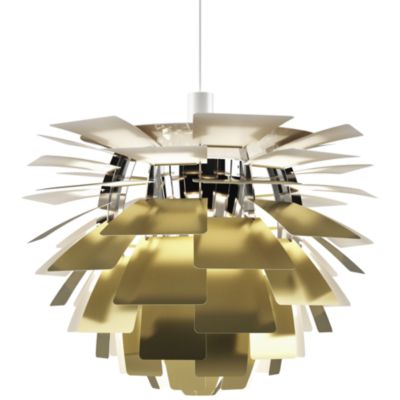 Building on the success of his hanging lamp, Henningsen soon began producing table lamps like the PH 1941 below, floor lamps, chandeliers, and wall-mounted lamps, with metal and glass shades available in different colors.SEE HERE FOR LATEST PRICING