Pierre Paulin: uncompromising, modern, individualistic, organic, uncertain, minimalist, classical, surprising, disappointed, unpredictable, sensual, enigmatic, free: the adjectives used are numerous and often paradoxical to describe the brilliant, taciturn yet visionary Pierre Paulin. His Orange Slice chair remains one the most iconic mid-century modern pieces of design.
Bio
Born on July 9, 1927, in Paris, this French designer has left an undeniable mark on the world of design. Pierre Paulin comes from a prominent family of artists, such as his uncle Georges Paulin, designer for major car brands and inventor of the convertible coupé convertible car in 1927.
In 1951, Pierre Paulin graduated from the Camondo school in Paris (architect and designer school). He then worked for Marcel Gascoin's workshop (serial furniture specialist). In 1953, Pierre Paulin met his first success by participating in the "Salon des Arts Ménagers", his creations were then published for the first time.
Style
With his creativity, Pierre Paulin has survived successive periods (1950-2000) without a scratch. His works celebrated around the world demonstrate modernity and poetry and express his intention to put technology at the service of comfort. The development of its molded wooden shell seats, foam upholstery, and stretch covers will have marked the designer's brand. For Pierre Paulin furniture like a "chair should be more than just a functional element. It must be friendly, fun, and colorful."
Masterpieces
ORANGE SLICE CHAIR Designed in 1960, Orange Slice is a timeless work that still seems as stylish and inspired as ever. Anyone who sees several Slice chairs together cannot fail to be amazed by the playfulness of their composition. This chair is composed of two identical shells made of pressed beech, embedded in a molded foam. The base is chrome-plated or powder-coated.
PACHA LOUNGE CHAIR Paulin managed to give real elegance to the rounded shapes of the Pasha chair by finding the perfect proportions, lifting it slightly on its base and tracing it through the foam and padding with the seam lines inclined inwards.
THE MUSHROOM CHAIR was created after many tests in 1959. It represents the first seat made using a new manufacturing technique: a metal frame covered with foam, then a seamless cover that fits like a sock.
THE ELYSEE SHELVING SYSTEM is a piece of hardware that attaches the modular shelves together to create a customized silhouette. It securely connects the top modules with the piece below. It gives total freedom to stack the shelving units any way you like to come up with creative forms. These pieces were originally designed for the residence of the President of the French Republic and manufactured by MAGIS. SEE HERE FOR LATEST PRICING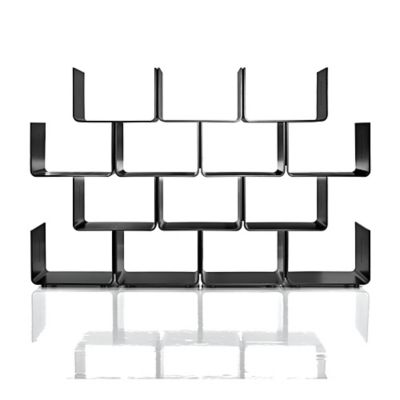 Picture attribution
Rama, Orange Slice Chair-Pierre Paulin IMG 5833-white, CC BY-SA 2.0 FR