A curated selection of timeless Mid-Century Modern Tables and Desks
1 – the Cavour Desk and the Arabesco table by Carlo Mollino
THE CAVOUR DESK by Carlo Mollino had organic inspirations and anthropomorphous lines that showed the highest level of harmony Mollino wanted to portray. The art had unique materials such as molded plywood.
THE ARABESCO TABLE was designed in 1949 had an unusual shape. The design had a stiff twist and turn with traditional surface made of plywood. The legs, engulfed by brass tips, secured it from the ground. The table had fluid lines that prevented cracking of the wood. Again, organic shapes dominate its design.
2 – The Screw Table by Eero Arnio
SCREW TABLE The screw table looked like a flat head screw stuck into the ground. Eero Aarnio won the American Industrial Design award in 1968 because of this piece.
3 – The Dining Table from the Warren Platner Collection
Focused on a quieter aesthetic, the Warren Plater collection wished to create more graceful structures. To design the dining table of the collection, Platner exploits the rod's radial symmetry and a moiré effect to achieve its striking visual appeal.>> Please click here to see current offers and pricing. <<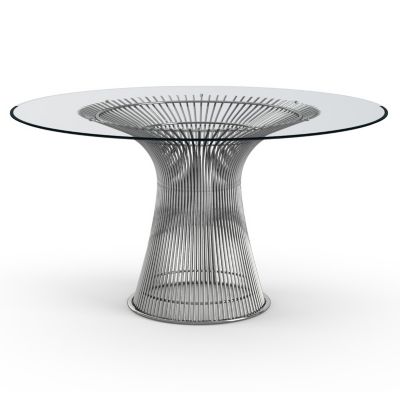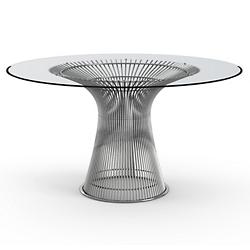 4 – the Typewriter desk by George Nelson
THE TYPEWRITER DESK Nr. 4658 by George Nelson aka the Home office desk is an iconic example of modular furniture system where ergonomic objectives are met taking into account the specifications of a modern manufacturing process.
5 – The Tulip table by Eero Saarinen
Eero Saarinen introduced an innovative solution with his pedestal collection: the Tulip Table and chairs do not have the common four legs but one durable aluminum pedestal base.  They are still in production today and come in a variety of sizes and shapes including round and oval.
6 – The Laccio side and coffee tables by Marcel Breuer
WASSILY CHAIR  No B3: Marcel Breuer was greatly inspired by the form and shape of the bicycle hand bars. In 1925, he invented the tubular metal chair also known as the Wassily Chair. The Laccio coffee and side tables display similar features .