Joe Colombo's futuristic designs ranged from interiors, to a wide range of products and furniture. His innovative ideas were ergonomic and minimalistic and his home-living solutions integrated furniture, lighting, storage and domotics. His Elda chair – one of the most iconic Mid-Century Modern pieces – offers an unprecedented ergonomic flexibility.
Bio
Joe Colombo (original name was Cesare Colombo), was born on 30th July 1930 in Milan and died on 30th July 1971 on his 41st birthday. Colombo's mother was an artist and young Cesare followed her footprint attending the Brera academy of fine arts (Accademia delle Belle Arti) in Milan where he received his education as a painter Only later he studied architecture at the Polytechnic of Milan. Joe began his creative and artistic interests as a sculptor and painter and started cultivating his passion for embracing modern technologies. In 1955 Colombo joined the Art Concept Group but eventually gave up painting to promote his career in design. In 1959, Colombo had to take over the family company of electric appliances, and started experimenting with new manufacturing technologies. In 1962 Colombo opened his own interior design and architecture projects, mostly for lodges and skiing, another of his passion.
Style
Joe Colombo had a cuddly appearance but deceptive and charismatic. He was a playboy who used to publish his own apartments in various magazines to promote his own designs. Designs which were often hedonistic and futuristic and ranged from interiors, to a wide range of products like lamps, glass, doorknobs, pipes, alarm clocks, and wristwatches and – of course – furniture. His multifunctional and pioneering ideas are still influential in current times. His playful and eclectic approach was an example for later multi-disciplinary designers like Philippe Starck and Karim Rashid. Colombo's innovative ideas were ergonomic and minimalistic. Colombo was always interested in integrated solutions to home living that combined furniture, lighting, storage and domestic technology. An example was his "cabriolet bed" – originally designed for his Milan apartment – with a control system for operating a cigarette lighter, fan, phone, and radio. He also came up with a new design for an optical alarm clock whose cover prevents the face from reflecting light.
Masterpieces
THE MINI KITCHEN: designed for the Italian manufacturer Boffi was a relatively small block of wood which contained all the basic, modern appliances and performed all the main functions of a kitchen. The piece is still produced today in an updated and slightly enlarged version by Boffi and the main concept is still utilized by different manufacturers. Also known as "The kitchen-box" on wheels (1963), included a refrigerator, two-burner stovetop, grill, oven, cutting board, pull-out worktop, and storage for other tools, knives, and cookbooks. 
THE ELDA ARMCHAIR: was his most famous furniture piece (1963). This wide lounge chair resembled a large baseball glove on a rigid base and back. Typical of Colombo, it was truly a pioneering piece: it included a structural
fiberglass frame – a real innovation for the time – where the base could rotate offering an unprecedented ergonomic flexibility.
Colombo made furniture which was flexible and modular like THE UNIVERSAL CHAIR (1965) designed for the Italian manufacturer Kartell which could be easily modified and used as a stool. This stackable chair had detachable legs in two different heights and echoed Verner Panton's Panton chair.
THE 4801 ARMCHAIR manufactured by Kartell was initially made entirely out of wood (the only piece by Kartell to be so) when it was first released in 1965. With this reissue, the complex and technically challenging engineering methods have finally been developed to produce the design as originally envisioned: in smooth and strong PMMA plastic. SEE HERE LATEST PRICING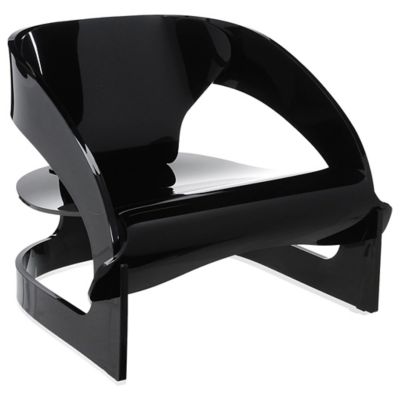 THE TUBE CHAIR of 1969 was a modular chair made of a series of interlocking, upholstered tubes which could be assembled in various locations to obtain a wide range of sitting positions. The tube chair reflects Colombo's main objective: flexibility.
THE BOBY TROLLEY (1970), designed for the Italian manufacturer BIEFFEplast is a storage system featuring trays and compartments within a mobile unit on gliding castors for mobility.