Jens Risom uniquely combined Danish tradition with American modernism yet maintaining a simple, rational design. The "600 series" chairs add an American sense of taste to the Skandi style by using rustic, solid materials. With its gentle lines, his furniture present a concern for functionality complemented by a distinctive, organic element like in the walnut magazine table
Bio
Born in Copenhagen in May 1916 (his father was  the well-known architect Sven Risom), Jens was immersed in the design world early on in his life. He graduated from the prestigious Kundstandvaerkerskolen, now known as the Danish Design School, which was for Danish cabinetry students, something similar to graduating from Harvard.  Two years before Germany invaded Denmark in 1940, Risom left his native country for the United States and served as the director of an interior design studio in New York. He then started a freelance career specializing in textiles and furniture, and it was during this time that he met Hans Knoll. In 1942, the pair started the Knoll Furniture Company and launched a collection of twenty pieces, fifteen of which were designed by Jens Risom.
Style
By combining Danish tradition with American modernism, Jens Risom designed pieces that look simple and rational, with a concern for functionality and quality. In order to adapt the Scandinavian style to the American taste, rustic and solid materials are often used in his work. He was also a pioneer in the use of recycled maiterials as he  developed several chairs and tables using scraps of wood and rejected nylon straps from parachute production. According to him, design has to go beyond aesthetic considerations to gain in functionality and comfort. Among the star designers of the mid-century modern, Risom was one of the few to live long enough to witness the rediscovery of his work by new generations.
Masterpieces
Designed by Jens Risom, the chairs from the "600 series" collection, were the very first to be produced by Knoll in 1943. The armless version of the chair is defined by sharp Scandinavian lines and blended with the rustic character of American arts and crafts. This chair became Mr. Risom's signature piece in 1942 and was one of the first mass-produced modernist furniture pieces introduced in the United States before Europe.  SEE HERE LATEST PRICING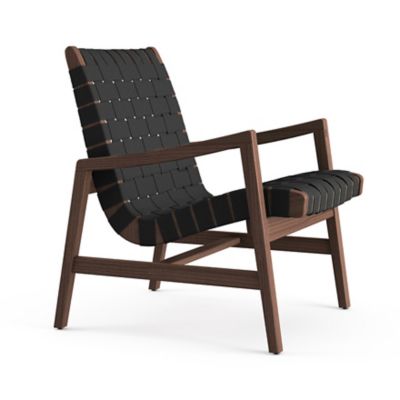 Armchair A takes its name by the shape of the structure – in a metal or oak – that evokes the first letter of the alphabet.
Risom's furniture pieces like the Amoeba Coffee Table, the chest of drawers, the walnut magazine table present a mixture of gentle lines and geometric angles that exhibit Risom's Scandinavian design sensibility and somehow remind us of the organic design of another contemporary, mid-century modern designer: Carlo Mollino.
Picture Attributions
By Sailko – Own work, CC BY 3.0, https://commons.wikimedia.org/w/index.php?curid=63469450
 Stewf is licensed under CC BY-NC-SA 2.0