Jean Prouvé was a French architect, industrial engineer and furniture designer but thought about himself more of an engineer and a constructor rather than a mere designer. Prouvé's exceptional knowledge of metal remained the foundation of his work and career. His Standard chair assembled with light modular pieces evolved later into the lighter, voluptuous Anthony chair 
Bio
Jean Prouvé was a French architect, industrial and furniture designer.  He was both a modern designer and an industrial engineer and experimented with different materials throughout his life. Jean Prouvé was born on April 8th in Nancy, France in an artistic family: in 1904, his father became the president of the "École de Nancy" Art Nouveau movement.
He learned wrought iron skills from one of his father's friend. In 1917, he started making self-created iron pieces as he was learning about modern metalwork and welding techniques designing many different projects including railings, gates and chandeliers.  He introduced the first bent-sheet metal elevator cars in 1928. He then established his own firm: Ateliers Jean Prouvé  producing also mass-manufactured furniture especially for the public-sector: armchairs, beds, bookshelves, desks, tables and scholastic furniture. Jean Prouvé became a mayor from September 1944 to May 1945, and a member of the Assemblée consultative Provisoire.
Style
Prouvé's exceptional knowledge of metal remained the foundation of his work and career. He collaborated with well-known French mid-century modern designers and architects like Charlotte Perriand and Le Corbusier. His working style was experimental, optimistic and progressive. And his professional attitude was unconventional and provocative. Jean Prouvé thought about himself more of an engineer and a constructor rather than a modern designer. He designed not only for form but also focused on the essence of materials and of production processes: "Never design anything that cannot be made" in his own words. He also pioneered prefabricated housing introducing the famous hanger-structured roof with the collaboration of fellow architects. He designed his own house as a prototype and it is still considered as a great development in prefab housing. Jean has been a substantial inspiration to modern designers, particularly construction-minded architects like Renzo Piano and Norman Foster. Although his design is mostly unknown to the general public his contribution to mid-century modern was substantial.
Masterpieces
Prouvé introduced the first "Standard" chair with tubing and bent steel base in 1934. He had an innovative and unique style of folding sheet metal. Prouvé used the bent sheet metal for its strength enhancing the structural capacity of the chair to bear the weight of the user. CLICK HERE FOR LATEST PRICING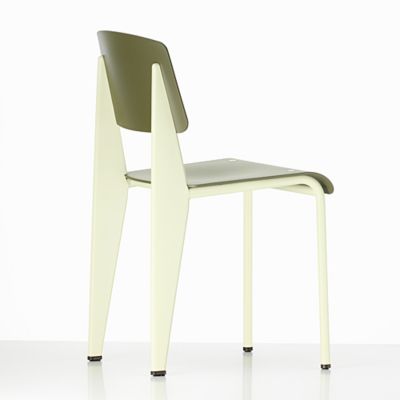 The Antony chair of 1954 had the distinguished lightness of architectural bridges.
The shelving units for the rooms of the Cite Internationale universitaire de Paris  (1952) are possibly the best-known examples of his collaborative work with the artists Delaunay and Perriand.
The famous pre-fabricated petrol station was an architectural exhibit and contained Prouvé's table and standard chair.
Images attribution (in order)
Patrick.charpiat, Prouvéchaises, CC BY 3.0
Sailko, Jean prouvé per les ateliers jean prouvé, sedia anthony (mod. 356), maxèville F 1950, CC BY 3.0
Sailko, Jean prouvé, poltroncina leggera detta sedia antony (n. 356), 1955, CC BY 3.0
Sailko, Jean prouvé, sedia ruotante per dattilografi (n. 304), 1950, CC BY 3.0
Sailko, Jean prouvé, sedia smontabile (CB 22 poi n. 301), 1947 ca, CC BY 3.0
By en:User:Sandstein, a.k.a. User:TheBernFiles – Own work, CC BY 2.5, https://commons.wikimedia.org/w/index.php?curid=1246492