Gold Medalist from the Architectural League of New York, Harry Bertoia was a mid-century modern furniture designer and sculptor. He was best known for his iconic Diamond Chair and numerous monumental and architectural sculptures. Bertoia being a thorough artist, was also passionate about music and its intersection with sculpture and design.
Bio
Harry Bertoia was born in Arieto Bertoia in San Lorenzo, Italy, on March 10, 1915. He completed high school in Italy until the age of 15 then immigrated to Detroit in 1930, where his brother was already established. After immigrating to Detroit at age 15, he studied art and design at Cass Technical High School and drawing and painting at the Detroit Society of Arts and Crafts. In 1937, he attended the Cranbrook Academy of Art in Bloomfield Hills, MI. In 1939, he was asked to stay on at Cranbrook Academy to teach metalwork. He then opened his own workshop on jewelry making. In the 1940s, Bertoia began experimenting with printmaking. Bertoia spent time creating monoprints, which he later sent to the Solomon R. Guggenheim Museum to be assessed. In 1943, the Guggenheim foundation exhibited 19 of Bertoia's prints. While there, he worked with Charles and Ray Eames on projects that involved sculpting moulded plywood. In 1950, Bertoia moved to Pennsylvania to work for fellow Cranbrook graduates Florence and Hans Knoll. It was during this time that Bertoia designed the iconic Bertoia Diamond Chair series, which is still produced by Knoll, Inc.
Style
Known for his architectural design as well as his sculptural-style art work, Harry Bertoia was a mid-century modern style setter. Bertoia's furniture are a unique fusion of sculpture, space and industrial material. Harry Bertoia completed 50 public works, 45 solo exhibitions and 11 Sonambient albums in his lifetime. By the mid-1950s, the artist's furniture designs were selling so well that he was able to devote his time exclusively to sculpture.
In 1960 he integrated his enduring love of music into his sculpture, choosing metals and manipulating their form and mass in ways that would allow for sonorous response to wind or touch, and then recording their sounds. These "Sonambient" sculptures were a focus of Bertoia's work until the artist's death on November 6, 1978, in Barto, Pennsylvania.
Masterpieces
The Side Chair: is among the most recognized achievements of mid-century modern design. SEE HERE LATEST PRICING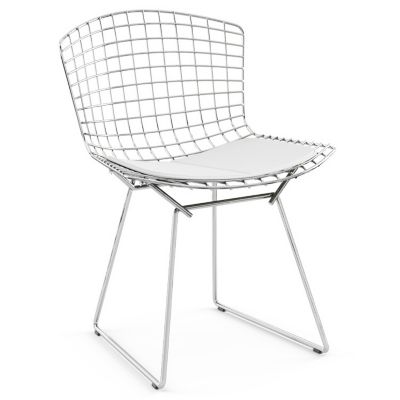 Diamond Chair: Bertoia designed this ever-popular chair which is still produced by Knoll. The Bertoia Chair is made of polished steel wire, sometimes vinyl coated, and covered with cotton or with elastic Naugahyde upholstery—Bertoia also designed a side chair and a barstool made with the same mesh wire frames. Some of Bertoia's more notable architectural sculptures include View of Earth from Space – designed for the Dulles International Airport, Waves – designed for the Philadelphia Civic Center, and Sounding – a fountain piece designed to sit in front of the Standard Oil building in Chicago. SEE HERE CURRENT PRICING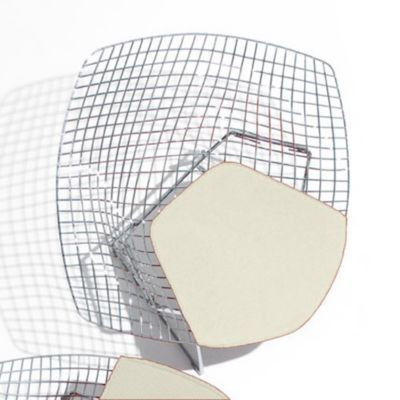 Picture attribution
Sandstein, Diamond Chair – Harry Bertoia, MNAM, CC BY-SA 3.0