Hans Wegner learnt the art of crafting wood since the age of 13. Wegner's prolific design embraces functionality and affordability exploiting his deep understanding of this material. His iconic MCM pieces include re-inventions of classics: like the Wishbone chair or the Peacock chair and innovations like the 3-legged Shell chair
Bio
Hans Wegner, son of a cobbler, was born in 1914 in Tonder, a town located in the South of Denmark. At the age of 13, he began working as an apprentice with a well-known cabinet maker called Stahlberg. That's where he started getting more and more familiar with wood and learnt the art of crafting this material which remained his favorite for the rest of his life. From 1936 – 1938 Wegner relocated to Copenhagen to attend the school of art and craft. In 1938 he moved to Aarhus where he became a furniture designer and – in 1943 – he established his own studio designing a series of lightweight chairs. He received many prestigious awards commemorating his unique designs, including 1951 Lunning Prize. He died at the age of 92 in January 2007
Style
Wegner focused on exhibiting the inner utility of furniture using functional and straightforward forms. His experience as a cabinet maker helped him exploiting and integrating exquisite shapes and carpentry techniques in his designs. He had a special affection for wood as a material and the different features that came with it. He also used natural materials to bring natural softness and organic look to his designs. He always aimed at making relatively simple – and affordable – objects look exceptional and of high quality. In his career, Wegner designed more than 500 chairs for a number of different Danish manufacturers. Some pieces are classis MCM icons while other are more " experimental".

Masterpieces
MODEL JH 501 ROUND CHAIR: aka the CLASSIC CHAIR is probably one the most iconic pieces of Hans Wegner. The chair was made of a sculpted wooden frame and woven cane seat and it was his re-interpretation of an classic Asian chair.
Simple, yet elegant and timeless, the chair became so famous that many years later – in 196o – CBS used it furnish their set in Chicago for the famous JFK Vs Nixon presidential debate.
WISHBONE CHAIR: In 1949, the Wishbone Chair was designed for Carl Hansen & Son. This design was the last part of his series that combined top rails and chair's arms. Again, a reinterpretation of an Asian classic, the design of the Wishbone chair was inspired by Danish merchant's portraits sitting on Chinese Ming Dynasty chairs.
CH07 LOUNGE CHAIR aka THE SHELL CHAIR: In 1963, initially the public was not willing to embrace the three-legged chair, which was first exhibited that year in Copenhagen. But as time passed the SHELL CHAIR became one of the most iconic pieces of Wegner's prolific chair design. The design was a shell chair which represented an edged piece of the woodwork with simple materials used. CLICK HERE FOR LATEST PRICING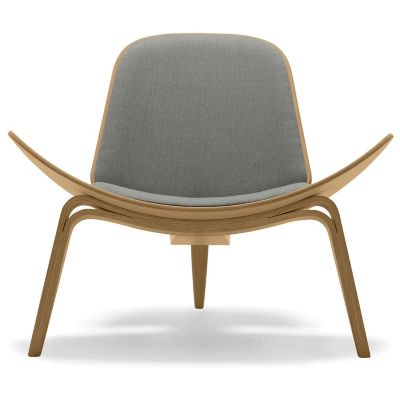 THE PEACOCK CHAIR: was yet another example of Hans Wegner's re-design of a classic period piece. Its high back reminds of 19th Century English Windsor seat.
CH20  aka Elbow Chair is another design by Hans J. Wegner that was so complex for its time, it wasn't able to be put into production until nearly 50 years later. Designed in 1956 with a solid wood frame and upholstered laminate seat. The distinctive backrest, which also sticks out far enough to support arms (hence the name Elbow Chair), is steam bent out of a single piece of wood. SEE HERE FOR LATEST PRICING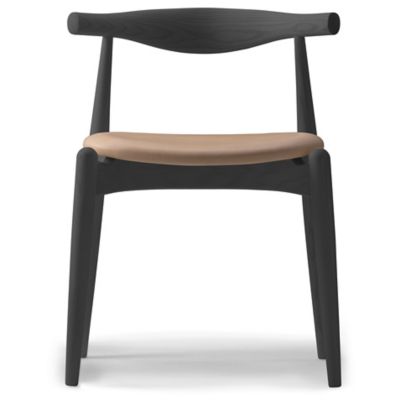 SAWHORSE CHAIR aka CH28 Armchair: In 1952, Wegner used his skillful understanding of wood material to design Sawhorse Chair for the manufacturer Carl Hansen. The chair was crafted from oak and walnut materials with a clear and solid lacquer finish. The chair did not need any metal hardware when it came to fixing together the joints.