George Nelson contributed to the development of Mid-century modern through both his provocative writing and his innovative design. He constantly aimed at providing functional and aesthetic solutions to modern-day living. His iconic pieces span from furniture: Coconut Chair, Marshallow sofa, Typewriter desk, to objects: Ball clock, to lighting: Bubble light.
Bio
Born on May 29, 1908, in Connecticut, Nelson studied at Hartford high school till 1924 when he graduated. He then enrolled at the prestigious Yale University without the intent to study Architecture. By chance one day he was sheltering against a rainstorm in the Yale's School of Architecture and the displayed students' work entranced him enough to pursue Architecture. In 1932, he won the Rome Prize; which entailed a 2-year fully catered Architecture course at the American Academy in Rome. While studying, he extensively travelled Europe interviewing architects of the time for a magazine. It was through such provocative writing that Nelson caught D.J. De Pree's attention – the president of Herman Miller. His insight impressed Pree, who employed him as one of his designers; despite Nelson lacking related professional experience. He redesigned and produced some innovative pieces while transforming the company into a respectable force in the design industry. Such impressive results lead him to be selected as its design director in 1947. In the same year, he opened his design studio, where he continued producing unique pieces. By the mid-1980s, he had worked with several fortune 500 companies and created iconic designs. Nelson died on March 5, 1986, at the age of 77 years.
Style
Nelson was one of the most influential architecture who introduced Mid-century modern to America. His designs aimed at providing practical, functional, and aesthetic solutions to modern-day living. Therefore, his pieces were distinctive and innovative in both form and function. He incorporated efficiency, functionality, modern shapes, and technology to create striking, timeless pieces. Nelson created a precedent for standard, modular system used in furniture manufacturing they are still in use today like the furniture line below.
At the same time, he also designed more playful and colorful pieces and objects like the series of fanciful clocks below.
Key Masterpieces
THE COCONUT CHAIR. The name was coined from its resemblance to a broken coconut shell. First produced in 1958, the coconut chair was based on James Donahue's Winnipeg chair. Nelson's version featured pronounced triangular shape and added bent steel to strengthen the base.
THE PRETZEL CHAIR. Its initial model lacked armrests and had holes for attaching cushions. Due to its high production cost, its manufacture was too costly, subsequently going out of production. It wasn't until 1985 – when Nelson allowed the Italian firm ICF to produce these chairs – that production was restored.
THE DAF CHAIR:  manufactured in fiber glass, chrome-plated steel and aluminum had an innovative system of ball and socket – for the time – which allowed for an adjustable back. The shape is somewhat similar to the Hans Wegner's Swivel chair produced 3 years before by Johannes Hansen (1955) but became a prototype of the modern office chair.
THE BALL CLOCK: is probably one of the most famous clocks Nelson designed for the company created by the son of Herman Miller: Howard Miller. The clock reminds us of a face of a colorful flower. The series apparently came from the collaboration with few other designers: Noguchi, Fuller, and Irving Harper. Interestingly enough, the latter hinted that also the credit for other iconic pieces from Nelson (Marshmallow sofa?) should not just be lied on Nelson alone…
The George Nelson Ball Clock, from Vitra, is an authentic re-edition of the classic mid-century modern design from 1947. The Ball Clock is produced from the original design document from the Nelson archive with the blessings of the George Nelson estate. This functional and geometric work of art represents the work of one of Americas most original designers.>> click here to see current pricing and offers<<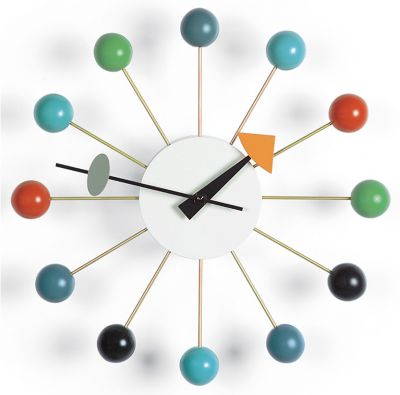 THE MARSHMALLOW SOFA An inventor who had developed a plastic injection disc approached Irvin Harper and George Nelson. His idea was to use the disc as a practical, inexpensive cushion. Nelson and Harper were, however, so intrigued that they decided to make a chair out of it attaching the discs onto a metal. This eye-catching chair meshed with the 1960's pop art style.
THE TYPEWRITER DESK Nr. 4658 aka the Home office desk is an iconic example of modular furniture system where ergonomic objectives are met taking into account the specifications of a modern manufacturing process.
For his light designs please see: https://midcenturymodernhub.com/george-nelson-the-lamp-designer/