George Nelson contributed to the development of Mid-century modern through both his provocative writing and his innovative design. He constantly aimed at providing functional and aesthetic solutions to modern-day living. His iconic pieces span from furniture: Coconut Chair, Marshallow sofa, Typewriter desk, to objects: Ball clock, to lighting: Bubble light.
Bio
Born on May 29, 1908, in Connecticut, Nelson studied at Hartford high school till 1924 when he graduated. He then enrolled at the prestigious Yale University without the intent to study Architecture. By chance one day he was sheltering against a rainstorm in the Yale's School of Architecture and the displayed students' work entranced him enough to pursue Architecture. In 1932, he won the Rome Prize; which entailed a 2-year fully catered Architecture course at the American Academy in Rome. While studying, he extensively travelled Europe interviewing architects of the time for a magazine. It was through such provocative writing that Nelson caught D.J. De Pree's attention – the president of Herman Miller. His insight impressed Pree, who employed him as one of his designers; despite Nelson lacking related professional experience. He redesigned and produced some innovative pieces while transforming the company into a respectable force in the design industry. Such impressive results lead him to be selected as its design director in 1947. In the same year, he opened his design studio, where he continued producing unique pieces. By the mid-1980s, he had worked with several fortune 500 companies and created iconic designs. Nelson died on March 5, 1986, at the age of 77 years.
Style
Nelson was one of the most influential architecture who introduced Mid-century modern to America. His designs aimed at providing practical, functional, and aesthetic solutions to modern-day living. Therefore, his pieces were distinctive and innovative in both form and function. He incorporated efficiency, functionality, modern shapes, and technology to create striking, timeless pieces. Nelson created a precedent for standard, modular system used in furniture manufacturing they are still in use today like the furniture line below.
For more of his furniture pieces please see https://midcenturymodernhub.com/george-nelson/
HAY Design Talk / Bubble Lamp by George Nelson for Herman Miller available from HAY from HAY on Vimeo.
Masterpieces
THE BALL LIGHT and THE CIGAR LIGHT are among Nelson's most famous lighting pieces. Here the influence of his friend and colleague Isamu Noguchi is most evident. The Japanese-American Noguchi created a series of paper lanterns which merged Western functionality with the beauty of Eastern sculptures. Nelson's lighting pieces are less "sculptural" as the paper lantern concept is developed into more symmetrical and simpler shapes.
Introduced in 1952, the Bubble Lamps by Herman Miller collection features organically shaped lamps that were made by spray-coating a translucent plastic over a steel wire frame—a material application unexpectedly inspired by the military. The George Nelson Pear Bubble Pendant is a cylindrical shape that balloons at the center, creating a soft light source that diffuses the light perfectly. SEE HERE FOR LATEST PRICING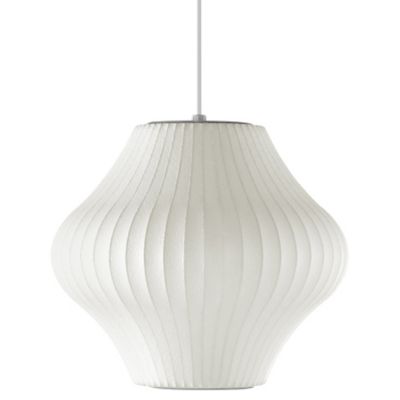 George Nelson truly shaped the American design scene post World War II. He was one of the greatest 1900's designer.