Eero Aarnio: master of Finnish interior design and pioneer of the mid-century modern movement. His distinctive design principles mix pop-art with space-age modernism. His masterpieces are still iconic today: the revolutionary ball chair, the bubble chair, the fiberglass tomato chair, the screw table, and the pastille chair
Bio
Eero Aarnio was born on July 21, 1932 in Helsinki, Finland. A master of Finnish interior design and pioneer of the mid-century modern movement, Aarnio started as an architect and then studied design at the Institute of Industrial Arts in Helsinki. Blending architecture and design was typical of mid-century modern designers. Eero Aarnio opened his first studio in 1962 and  -more recently – launched his official web store as well as the first Eero Aarnio Design Showroom in Helsinki where you can find Aarnio's latest designs and prototypes https://eeroaarnio.com.
Style
Aarnio's style is somewhere between functional and playful (think of Philip Stark today); he started early experimenting with new-for-the-time industrial materials and especially with acrylic plastics and fiberglass; use of innovative materials became his trademark as well as a recurring theme within the mid-century modern style. Aario started experimenting with various colors typical of the "Pop" culture of the time: like shiny white, green, red, yellow, and orange.  His pieces were definitely inspired by the popular science fiction movies of his time ("it's the race to the moon", after all); Hollywood was happy to reciprocate: his pieces can often be seen in the sets of science-fiction movies and TV productions of the time given their futuristic and yet simple geometric forms. The use of these new plastic materials will then become more and more a signature element of the new mid-century modernism. However, it wasn't always plain sailing: in the 70s, the oil crisis triggered soaring oil prices which peaked in 1981 making plastic production very expensive (the new materials were oil derivatives).  As a result, the manufacture of plastic furniture became less commercially viable. Only later – in the 80s – with oil price stabilizing, the use of plastics – and with it – Aarnio's pieces turned trendy again. Later in his career, Aarnio's designs morphed into more abstract shapes while incorporating organic and zoomorphic elements.
Masterpieces
BALL CHAIR One of Aario's first major productions was his Ball Chair of 1965: a sphere supported by an aluminum stand, open on one side to allow a person to sit within. The internal part of the chair was covered in foam upholstery with a bright fabric finish. Also known as the Globe chair, it was made with molded fiberglass – typically, in shiny white – but available in other colors like red, black and orange.
BUBBLE CHAIR The other – and probably most iconic – piece is the Bubble chair of 1968. It reminds of a sci-fi object that can defy gravity: the Bubble chair was suspended from the ceiling by a heavy chain and it was almost entirely transparent. Not only it was radically different from any concept of chair conceived since: pending from the ceiling rather than supported by the floor; but, it was also using a new – and somehow futuristic – material for the time: acrylic plastic.
FIBERGLASS ARMCHAIR  The fiberglass Armchair has the appearance of a smooth egg cup cut away to one side.
PASTILLE CHAIR  The Pastille chair of 1968 had the appearance of an indented candy, with a rounded back and – like the bubble and the ball chairs – it had no legs. Also known as the Gyro chair, it looked like a molded, Space-Age bean bag.
FIBERGLASS TOMATO CHAIR The fiberglass Tomato chair of 1971 was launched in shocking pink and looked likes two shiny plastic tomatoes attached in a way that the seat was molded between three supporting spheres.
SCREW TABLE The screw table looked like a gigantic flat-head screw stuck into the ground. Aarnio won the American Industrial Design award in 1968 because of this piece.
MUSTANG the Pony (aka Mustang) chair also produced in the early 1970s in the shape of an abstract pony horse. CLICK HERE FOR LATEST PRICING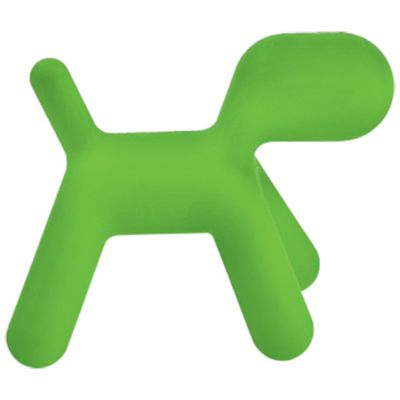 CHILDREN PIECES New Aarnio designs had been launched in the 1990s as he started experimenting with children furniture and toys like the android dog (see above the puppy toy by Eero Aarnio at the Googleplex, 2008).
Picture attributions
I, Sailko, Ngv design, eero aarnio, globe chair 1963-65 01, CC BY-SA 3.0
Bachhaus.eisenach, 15 Bachhaus Eisenach Bubble Chairs, cropped, CC BY-SA 3.0
régine debatty, Eero Aarnio Retrospective in Berlin 4, CC BY-SA 2.0
régine debatty, Screw Tables, CC BY-SA 2.0
secretlondon123, Android dog, CC BY-SA 2.0