A true master of Mid-Century Modern design, Eero Saarinen challenged traditional furniture design principles introducing innovative structural and aesthetic solutions. In his world legs were substituted by pedestals – like in his Tulip chairs – and armchairs by wombs in an exquisite and unique neo-futuristic style.
Bio
Eero Saarinen, designer then architect, was known for his neo-futuristic style. Son of the noted architect Eliel Saarinen, he was born on August 20, 1910 in Finland. He grew up in Bloomfield Hills, Michigan and attended the Cranbrook Academy of Art where he studied both sculpture and furniture design. In 1929, Saarinen entered the Académie de la Grande Chaumière, Paris to study sculpture. Later, he attended the Yale School of Architecture in New Haven, Connecticut, studying there until 1934. After completing his studies, Saarinen took a year off to travel and tour North Africa and Europe. He then took another year to live in Finland, his homeland. Eero passed away on September 1, 1961, aged 51, while undergoing surgery for brain tumor. His career may be considered short as compared to other designers and architects, but his work has left a significant mark that persists to this day. Saarinen is considered one of the finest masters of the American Mid-Century Modern architecture and design. His furniture designs are still popular today and the original pieces are still highly in demand.
Style
Saarinen, like many other contemporary designers, wanted to challenge traditional furniture design principles introducing new structural and aesthetic solutions.  Traditionally, chairs and tables had three or four legs; Saarinen's innovative designs were pedestal-based chairs and tables that had an aluminum base with plastic shells for the chairs and discs of marble or plastic for the table tops. The curvilinear designs of his furniture got worldwide recognition.In the meantime, Saarinen was also gaining notoriety for his outstanding architectural projects:
the St Louis Gateway Arch designed in 1947 together with Hannskarl Bandel. The structure spans over 192 meters, following the path of an upside-down catenary curve, solidified in stainless steel. Enormous in stature, the project was only constructed in 1963, two years after Eero's death.
the MIT Chapel is one of the pair of structures (the other being the Kresge Auditorium) located in the university's campus that Saarinen designed along with all of the landscaping. This chapel consists of a small, cylindrical brick structure above a small surrounding moat. It has rough brick interior walls, paneled in dark wood at the bottom. This interior modulates the space and provides artificial light. The homely chairs are freely arranged facing an altar at the far end that is placed under a circular skylight, signifying the uplifting descent of heavenly spirits into space.
TWA terminal at JFK Airport in NYC: a true masterpiece where Saarinen designed the exteriors but also curated most of the science fiction-like interiors.
Masterpieces
The Organic Chair Eero together with Charles Eames developed the Organic Chair which is a small yet comfortable reading chair. This attractive and simple design got a lot of attention and also won prizes. The Organic Chair did not go into production until 1950 when manufacturing processes advanced enough to make mass production of molded shell-type seating possible. This design is still being made in a number of variations and upholstery colors.
The Womb Chair and SetTee (1948) with its curvaceous appeal, along with the matching footstool, is one of most popular furniture pieces of Saarinen. He created the "womb" using a glass fiber shell covered in foam rubber and fabric. In this design, Saarinen introduced a way to make a chair comfortable by the way its "shell" was shaped rather than the amount of cushioning it held. This chair is still being produced today much to the delight of modernism fans who value both style and furniture designed for relaxation. SEE HERE FOR LATEST PRICING
The Tulip Chair The four-legged, three-legged, and two-legged chairs have always been common but Saarinen was the one who introduced one-legged chairs known as the Tulip Chairs. With a truly stunning result, the Tulip collection became so iconic that they were often referred to as "the chairs by Eero Saarinen". These chairs were part of the Eero's Pedestal Collection (1957) which featured gracefully molded fiberglass chairs and upholstered stools having aluminum pedestal bases.
The Saarinen Table The Saarinen Table was also a part of the Pedestal collection. This table has a durable aluminum base that coordinates nicely with the Tulip Chairs. Because of their association with Tulip Chairs, these tables are sometime referenced as Tulip Tables. They are still in production and come in a variety of sizes and shapes including round and oval. SEE HERE FOR LATEST PRICING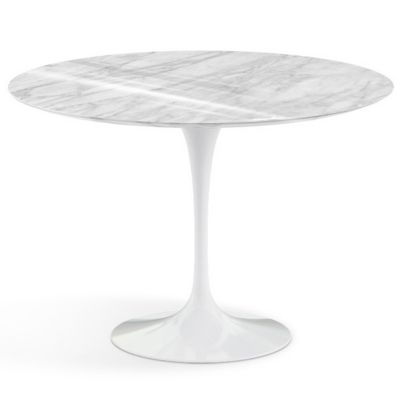 Open House New York gala film presentation from Longfellow Films on Vimeo.