It's hard to think of anyone who influenced Mid-Century Modern design as much as Charles and Ray Eames. Their work displayed new
wood
molding
techniques as well as new
materials
like
fibreglass
developed by the US military
.
Their Lounge Chair & Ottoman is possibly the most iconic
MCM design piece. 
Bio
Charles was born in St.Louis on June 17 1907 where he studied architecture (Washington University) on a scholarship. After two years of study, he left the university as he was apparently dismissed because of his "too modern" views. In 1941, Charles divorced his first wife and married his Bernice ("Ray") Kaiser University in St Louis, where he met his first wife. He practiced architecture in the 1930s until Eliel Saarinen offered him a fellowship at Cranbrook Academy of Art. Here, he formed close friendship with Eliel's son: Eero Saarinen with whom he collaborated on a number of projects and he also met Ray Kaiser and moved with her to Los Angeles, Ca where they worked and lived until their deaths. When Charles died in 1978, Ray worked to complete projects that were already underway but did not seek out any new projects.
Style
Charles and Ray Eames' work spanned many different mediums as they were pioneering the use of new materials. Their work displayed a new technique of wood molding (originally developed by Alvar Aalto), that Eames would further develop in many molded plywood products, including chairs and other furniture, splints and stretchers for the US Navy during World War II. War effort projects gave the Eameses access to materials and gave them the confidence to open their own design office. In the late 1940s their reputation was already soaring. Later, the couple began experimenting with another new material, fibreglass, developed by the US military. A wave of fiberglass models produced by Herman Mller in the late 1940s and early 1950s: the Eames Chaise (1968), designed for Charles's friend, film director Billy Wilder; the playful Do-Nothing Machine (1957), an early solar energy experiment; and a number of toys. Herman Mller began to put their designs into production. Following the great success of the Eames's furniture designs for Herman Miller in the 1950s-as well as ongoing architectural commissions-the designers became increasingly interested in sets for films and exhibition design. 
Masterpieces
THE LOUNGE CHAIR WOOD (LCW) of 1945. The sequence of chairs that the Eameses developed in the 19505 and '6os began with the LCW: one of a series of plywood pieces developed just after the war with a revolutionary sense of ingenuity and vibrant aesthetic charm
LA CHAISE: the sumptuous La Chaise of 1948 featured the sensuous curves of reclining body or pouting lips. SEE HERE FOR LATEST PRICING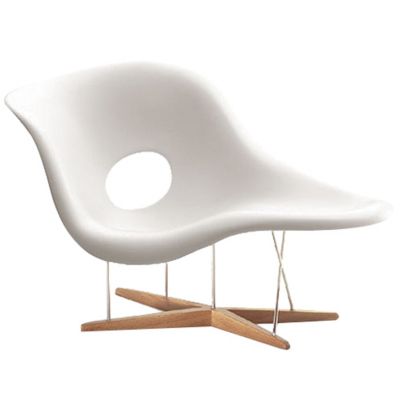 THE DINING ARMCHAIR ROD: DAR & THE DINING SIDE ROD: DSR aka BUCKET CHAIR: began as experiments with wire chairs, each design starting off with a sculpted, ergonomic seat.
MODEL No. 670 LOUNGE CHAIR & OTTOMAN: likely the most iconic piece of Mid-Century Modern design. Based on a 1940 prototype, the chair was released in 1956 and has become a must-have piece for generations.SEE HERE FOR LATEST PRICING