Castiglioni brothers' approach to design was innovative, imaginative, and with a touch of humor. Their focus was on producing highly functional lights that were as practical as aesthetic. Their designs are still bestsellers in production today like their famous Arco and Taccia lamps and held in museums around the world.
Bio
Achille Castiglioni, who was born in Milan in 1918, was an Italian industrial designer and architecture student during his career. He produced modern furnishings and accessories noted for their witty styling and functionality. After completing his architectural studies in Milan, he joined his brothers, Livio and Pier Giacomo, in 1944 to work with them at the design firm of their parents. In 1969, he was authorized to teach "Artistic Design for Industry" by the Ministry of Education. Until 1980 he was a professor at the Faculty of Architecture in Turin and then until 1993, professor of industrial design. In his 84th year, he continued to create his magically simple, beautiful objects and made everything look effortless. He died on December 2nd, 2002.
One of Achille's brother: Pier Giacomo Castiglioni was born in 1913 in Milan. He and his brother Livio founded the practice of "Architecture, Urban Buildings and Industrial Design Research" in 1937. The mere mention of his name in the design community commands reverence and admiration. At Milan Polytechnic, he also studied architecture, graduating in 1937.  Their father was the famous Italian architect Giannino Castiglioni. At the Politecnico di Milano, Achille and Pier Giacomo both studied architecture and later worked as teachers. Their collaboration was productive and innovative, often with radical and humorous designs.

Achille Castiglioni en la Triennale di Milano from Tendenciastv on Vimeo.
Style
Castiglioni's approach to design was described as innovative, imaginative, and always with a touch of humor— may be best described in Achille's own words: "Start from scratch, stick to common sense, and know your goals and meanings." As only an experienced designer could, Achille Castiglioni knew very well the basic principles of his job. that is, the developer must not take any previous similar object for granted, must consider the rationale for creating a new product or enhancing an existing one, and must be aware of the resources available. Given these 'fair' concepts, the main features of all the plays of the Castiglionis are paradoxes: they cherished them and were fascinated by their interpretation and insight. Probably the most compelling example is the pivoting Sella stool: it consists of a leather bike seat, a tubular metal stem, and a rounded cast-iron base. The impetus was a new behavior; the designer said: "When I use a payphone(…) I like walking around, but I also want to sit down, but not absolutely," a bigger and more profound effect of the combined shape and function of an item. Observation of everyday objects has often been the starting point of his designs: "Design demands observation" was one of his mottoes.
In Italy and around the world, however, their work continues to live on and inspire generations of designers. In 1957, the exhibition "Colori e forme nella casa d'oggi" (Colors and Forms in Today's Home) was held at Villa Olmo in Como, where specialists were annoyed by Achille and Pier Giacomo Castiglioni with their vision of a modern lifestyle because what they showed was a colorful jumble of styles that incorporated old and new furnishings rather than uniformly styled interiors.
Masterpieces
While Pier collaborated on a wide variety of projects with his brother, their contemporary lighting products were particularly successful for brands such as FLOS, Arredoluce, and Artemide. Their focus was on producing highly functional lights that were as practical as aesthetic. In addition to their most famous Arco floor lamp creation (see below), Pier and his brother Achille designed many bestsellers for FLOS still in production today. A number of their works are held by the MoMA in New York, and others can be found in significant design collections such as the Victoria and Albert Museum (London), the Kunstgewerbe Museum (Zurich), the Museo del Art (Prato), the Denver Art Museum, and the Vitra Design Museum. SEE HERE FOR LATEST PRICING
The Parentesi Suspension lamp was designed for Flos with the collaboration of the sculptor Pio Manzu. SEE HERE FOR LATEST PRICING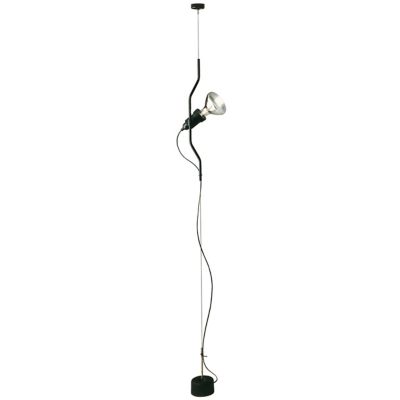 Another famous piece is the playful Snoopy Table Lamp. A quick look at the shape of the lamp easily explains its name. The enameled "Snoopy head" shade comes in a variety of colors and works with a thick disc of glass to diffuse a bright wash of task lighting. This singular structure rests in perfect balance on the White Carrara marble base. SEE HERE FOR LATEST PRICING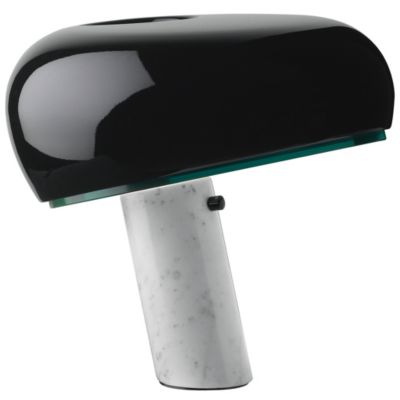 The Taccia table Lamp cylindrical base is crafted from Aluminum for durability that can withstand the harsh challenge of time. Atop the base rests a bowl-shaped diffuser which buffers the fixture's light along with a convex Aluminum reflector. SEE HERE FOR LATEST PRICING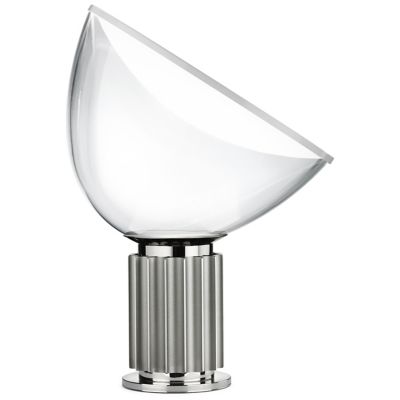 Flos : The Light Suites : Taccia from Workroom on Vimeo.